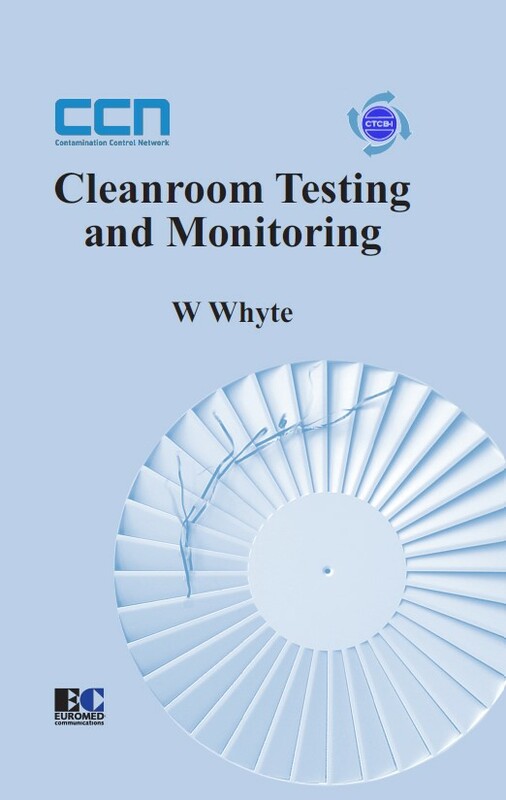 Cleanroom Testing and Monitoring - Hardback
Members of the CCN can benefit from 10% off the price of this new publication. Please complete the form below and we will send you an invoice for the book and your copy will be posted once payment has been received.

Cleanrooms have to provide a measurable clean environment of a very high standard to avoid problems caused by contamination from particles, microbes and chemicals. To ensure that cleanrooms deliver the correct level of cleanliness, they must be rigorously tested when first installed and then at regular intervals throughout their life. This new book is an essential guide to state-of-the-art methods used for testing and monitoring cleanrooms to ensure that they provide the correct and necessary levels of cleanliness.

This book is divided into two parts:

The first part consists of 14 chapters that provide a sound understanding of routine test methods used to ensure that cleanrooms function correctly and maintain their correct level of cleanliness.

The second part consists of 10 annexes that provide more specialised information about testing and monitoring methods required by cleanroom testing professionals.

Dr William (Bill) Whyte, the author of this book, is an international authority on cleanrooms and has been involved in their design, testing, and operation for over 50 years. He is a member of BSI and ISO working groups that are writing, or have written, cleanroom standards and has extensive experience as an industrial consultant and presenter of educational courses about cleanrooms.

£85.00 plus £5.00 postage UK only - sent 2nd Class signed for.
Click below
Cleanroom Testing and Monitoring Book

If you have a discount code, remember to add it to the checkout page!
Advances in Cleanroom Technology
By William Whyte.
This book is based on the author's work that has been published over the last sixteen years to advance knowledge of cleanroom technology. The author, Bill Whyte, is an international authority on cleanrooms with over 50 years of experience in designing, testing, and running cleanrooms. This book is over 500 pages in length and divided into sections that group Dr Whyte's scientific writings.
The topics include the history of cleanrooms and operating theatres, risk management and risk assessment methods, contamination of products, ventilation design of nonunidirectional airflow cleanrooms, and standard of cleanrooms required for specified product contamination. In addition, the book provides further new information on measuring air supply volumes and air velocities, ventilation effectiveness, Computational Fluid Dynamics (CFD), high-efficiency air filters, decay of airborne contamination, collection efficiencies of sampling methods, airborne dispersion of particles and MCPs from people, dispersion from floors, transfer of surface contamination, and surface deposition of contamination. Each of the seven sections is provided with a helpful introduction explaining the background to the research and summarising the key points. Overall, this book will prove very useful to anyone involved in any aspects of the design, testing and operation of cleanrooms.